JS Industries Sub Xero Carbotune Surfboard
---
Size

Please choose your colour and/or size.

?

Fin Box

Please choose your colour and/or size.

?

In Stock

These are the current sizes/colours in stock. Items ship immediately when purchased. Australia wide shipping available or local pick up. Choose at checkout.

?
In Stock = Item is ready to be sent. Safely packed and ships the same day with a tracking number. Australia wide postage available or local pickup. Choose at checkout.
In Production = Can't see your required size/colour in stock? Contact us. There's a good chance we can get it for you.
JS Industries Sub Xero Carbotune Surfboard - 5'10 x 20 7/8 x 2 13/16 - 37.1L / FCS2 is backordered and will ship as soon as it is back in stock.
---
Couldn't load pickup availability
Australia wide postage available or local pick-up, choose at checkout.

Free postage on this board anywhere between Gerringong (NSW) to Noosa (QLD).

Shipping rates apply to other states & areas. Boards going to these other areas and states require a commercial business address. What qualifies as a commercial business address? See here

Boards in stock (see graph above) are ready to be sent & are shipped out on the same day of purchase with tracking provided. Boards are safely packed in a box with layers of bubble wrap. See our shipping & FAQ tab above or visit this link: https://www.sanbah.com/pages/shipping-faq
Full priced items - eligible for exchange or online store credit.

Sale items - are eligible for a exchange or online store credit.
JS Industries Sub Xero Carbotune Surfboard
After six years of research and development, our 100% carbon construction is here. We've tested dozens of different layups around the world from wave pools to the ocean, and have settled on the unanimous favourite from JS and the Traktor Team in all conditions. The aim was always for endurance and performance unlike anything seen before in surfboard construction, and now we're here.
This is everything you want in small surf. To create the Sub Xero, we combined the new Xero with our long running summer favourite, the Psycho Nitro. It has the Nitro's ultra-fast low to flat rocker and full outline, but with the nose pulled in a touch, and a wider, straighter tail.

It's designed to be as performance oriented as you could possibly ride in knee high waves, and we couldn't be more excited to unveil it for those days you wouldn't even get in the ocean without the right super groveler. For slow waves, you need the fastest board - enjoy the Sub Xero.

Ride your Sub Xero approx. 4-6 inches shorter than your Xero in regular dimensions.
About this board:
Construction: JS Carbon Construction
Fin Boxes: FCS2 (Choose option above - Fins not included)
Tail shape: Swallow Tail
Dimensions/Litres: See size graph above
About Carbotune:

The benchmark after making Formula 1 style surfboards for 25 years is all about getting the balance of weight and durability into a board that will perform better than ever. We're using all of that documented data on what is the optimal weight for each number of litres, for each surfer, and the type of surfing that they do. All of that has gone into making sure these CarboTune boards come out at those ideal specs. It's a finely tuned balance for weight and durability to equal the performance we want. What the construction comes back to is a relatively simple formula: Weight & Durability = Performance. That's why it's taken 6 years – these elements have finally come together with the ideal balance for any surfboard made in CarboTune to both perform and last.
Carbon maximizes the weight to stiffness ratio of a surfboard, and provides you with a craft that efficiently turns power into speed. Translated for surfers and shapers - carbon provides an instant transfer of energy. So everything you put into it, CarboTune will give you back. Response will be immediate to any power directed to the board from the surfer or wave. This means that both angles and weight of carbon layups play a huge role in the R&D process and decision making on the boards' construction. The weight of our actual carbon fibre cloth used is lighter than all other carbon we tested throughout R&D. It's also lighter than the carbon fibre cloth used in most other surfboard constructions available around the world.

We've decided on this exact weight for better flex, while the finished overall weight of the board is still optimised for maximum momentum and projection. We've found that this ideal overall weight is close to our pro level team weight in a PU board. For example, a 5'10" / 28.6L CarboTune Xero Gravity is 2.4kg / 5.3lbs, and a PU pro team board at the same dimensions & volume is usually 2.5kg / 5.5lbs.
HOW ARE CARBOTUNE BOARDS CONSTRUCTED?
1. It begins with an EPS core. No stringer.

2. Carbon fibre cloth is assembled to wrap the entire exterior, precision engineered using the exact same angle and weight in each layer that we settled on throughout R&D as the ideal combination for durability and flex.

3. Carbon fibre cloth is applied with a vacuum-bagging production technique to ensure consistency in lamination. This technique is something we have developed & refined throughout the manufacturing of our HYFI construction boards since 2015.

4. A new generation clear epoxy resin is used throughout lamination, chosen for its excellent bonding characteristics with carbon fibre. Epoxy adheres to the carbon fibres to improve the composite materials' strength, durability, and chemical resistance. It also provides high resistance to UV light, preventing discolouration.

5. An automotive clear coat is used to finish each CarboTune board, sealing everything to ensure the cleanest possible watertight surface.
About JS Surfboards:
In recent times JS industries has become one of the most known and respected names in the world of performance surfboards. Jason Stevenson (founder, owner and shaper) has built the company from ground up and his talents and love of surfing have gained him global recognition and some strong relationships with a world class team of loyal surfers. The iconic Traktor logo has been found under the feet of a huge number of elite surfers over the years including four World Champions and many more top 32 contenders. JS's work coming into 2018 is at its absolute best, with the designs encompassing all of the innovations and improvements developed by the team and World Champions over the past half decade. We are incredibly excited for the future of surfing and JS will be there to see it progress!
Payment & Security
Payment methods
Your payment information is processed securely. We do not store credit card details nor have access to your credit card information.
Take $10 off your order
Subscribe the to Sanbah newsletter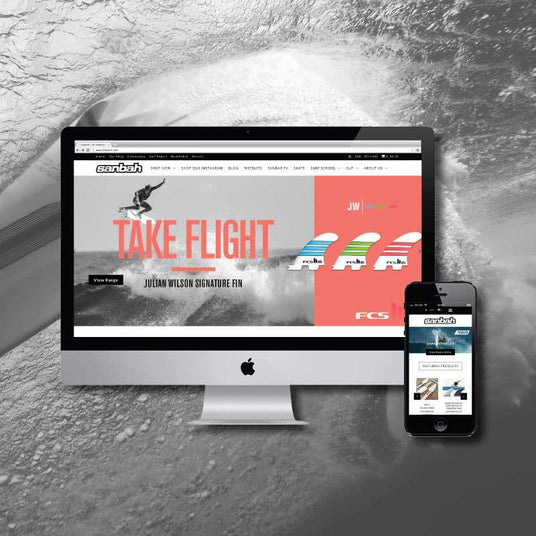 Sanbah is the home of surf in Australia!
Browse from 1000's of surfing products online with postage Australia wide!
Our website is updated daily with the latest and greatest products from all over the surf industry. View the latest boards, wetsuits, hardware & accessories all under the one website.
Your payment information is processed securely. We do not store credit card details nor have access to your credit card information.
Free & Fast Shipping on order overs $100 - Excludes Surfboards to some areas.